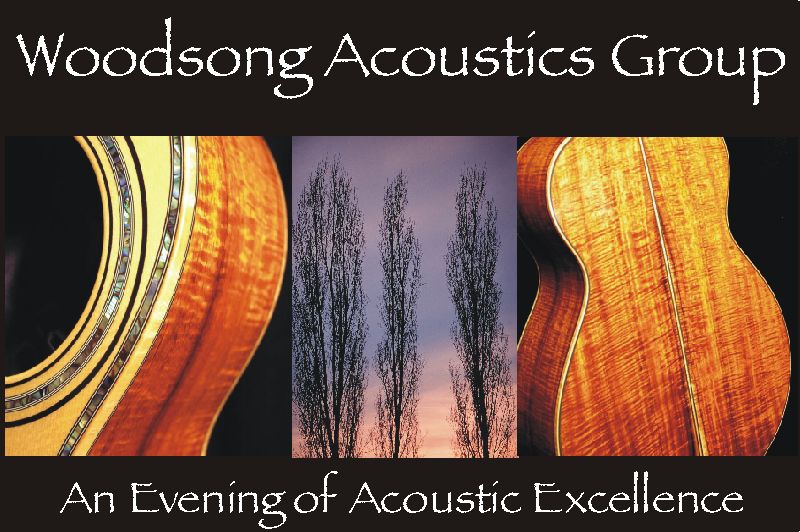 ---
I performed my FIRST EVER solo acoustic guitar concert in July of 2001, as the Michael Hedges Tribute performer, at a Woodsong Acoustics Group concert in Orinda, CA, along side guitarists Antonio Calogero & Chris Yeaton.  Chris is the founder of the Woodsong Acoustics Group and was trying to develop this concert series into a touring organization that would combine the worlds greatest and well-known musicians with the most recent up-and-coming musicians in one evening of acoustic excellence.
After spending a few years trying to learn as many Michael Hedges tunes as possible and, at least, a year of performing those pieces in public: at coffee houses, cafes, open mic nights, etc...this Woodsong Acoustics Group event was "THE BIG TIME!"  I felt that I had made it and could pursue a career in music as a solo artists.  Chris had heard of me through a mutual friend, Teddy Randazzo Jr., and had invited me to join this evening of music.  So, I took my long-time friend, Vu, up with me to participate in this experience.
Chris Yeaton opened the evening with his beautiful Hawaiian Slack Key (Ki Ho'alu) & American Fingerstyle guitar music.  I went on after Chris to perform a set of Michael Hedges music.  I played about 5 tunes of Michael's and ended my set with an original tune.  There was a short intermission and then Anotonio Calogero closed the evening with his masterful guitar music.  WHAT AN AMAZING EXPERIENCE IT WAS!!!
After that night, Vu & I drove back to Southern California on such a high, I bugged Chris, with a year and a half of emails and phone calls, to let me stay involved with this Woodsong Acoustics Group concert series "thing."  IT was what I wanted to do, musically.  Then, in February 2003, he invited me to join a Woodsong Acoustics Group tour that he had set up.  AN ACTUAL TOUR!!!  I couldn't believe it!  I was gonna be a touring musician.  So, I packed my gear and set off to Oakland to be picked up by Chris so we could start the tour.  It was an awkward experience in the beginning because Chris and I had only met (VERY BRIEFLY) in person the night in Orinda, CA. (2001).  If you knew Chris back then, you would understand.  LOL.  He was in "concert-mode" and didn't interact much until the concert was over, but I didn't stay after the concert because Vu & I had a long drive home.  So, meeting Chris in Oakland, for, essentially, the first time, was a bit awkward and uncomfortable.  Anyway, he picked me up and we set off on the road.  We left the Oakland airport and drove north, up the 5 freeway.  Not much was spoken between us for many miles!  We stopped off at a Denny's restaurant in Redding, CA. for some food and ALL HELL BROKE LOOSE!!!  We hit it off right away and we've had the greatest time together ever since!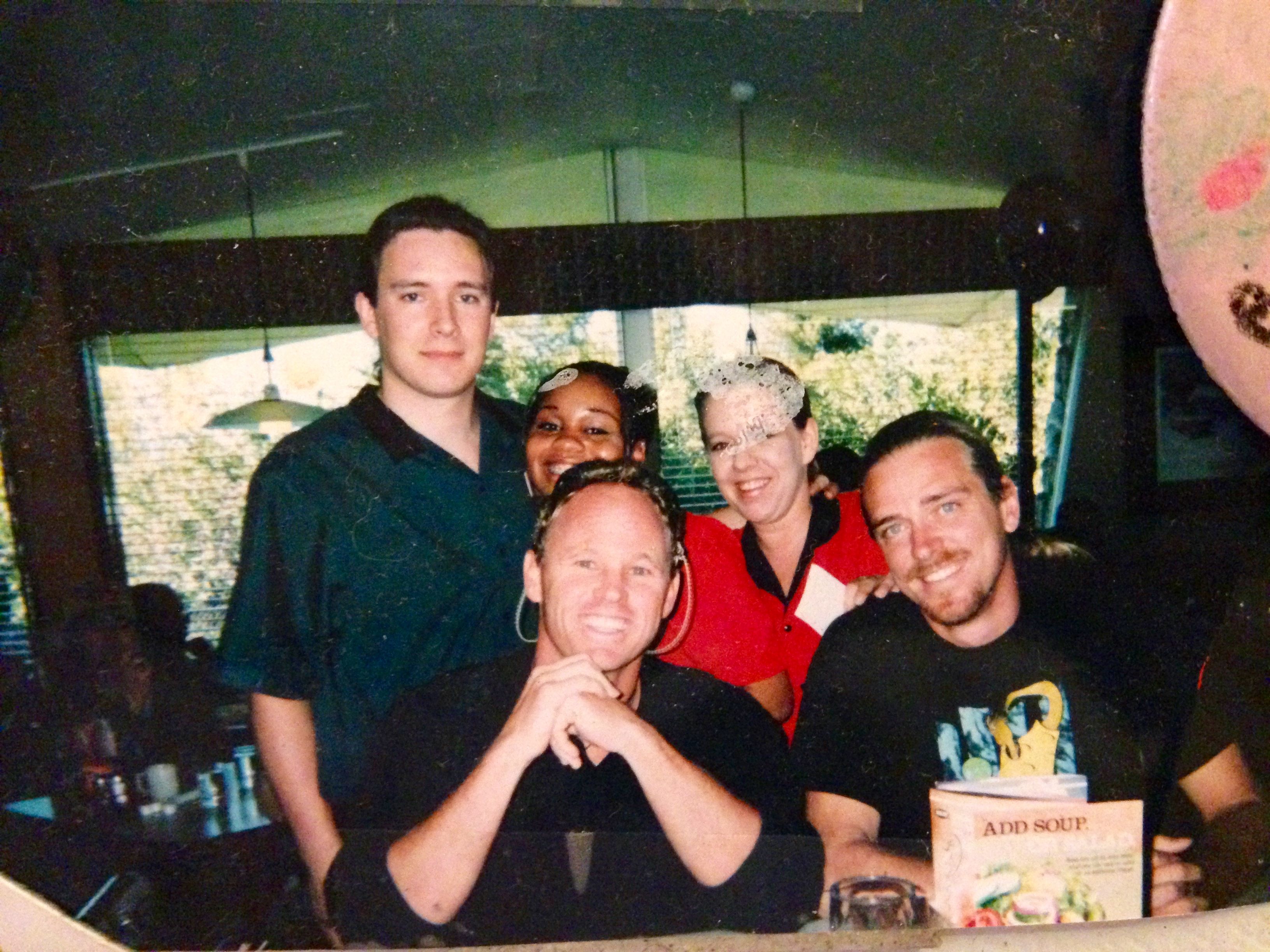 (This is the photo from that day.  We convinced our server, the hostess and some works that we were going to be famous musicians, so some of them wanted to be in the photo with us.)
These 2 invitations that Chris had offered me opened up so many opportunities and experiences that I would never have imagined!!!  He has given me a platform to share my music and talents with others, a home for my music, performance experiences with some of my musical idols, and a life-long friendship that can never be duplicated!  I owe him and the Woodsong Acoustics Group everything for helping me get to where I am today as a solo artist!  I've been able to tour regularly, throughout California, Oregon, Washington, Utah, Colorado and Hawaii!  These experiences and opportunities are some of the greatest in my life and I cannot thank Chris enough for providing them to me and sharing them with me!
A Hui Hou!
Adam Werner