Imagine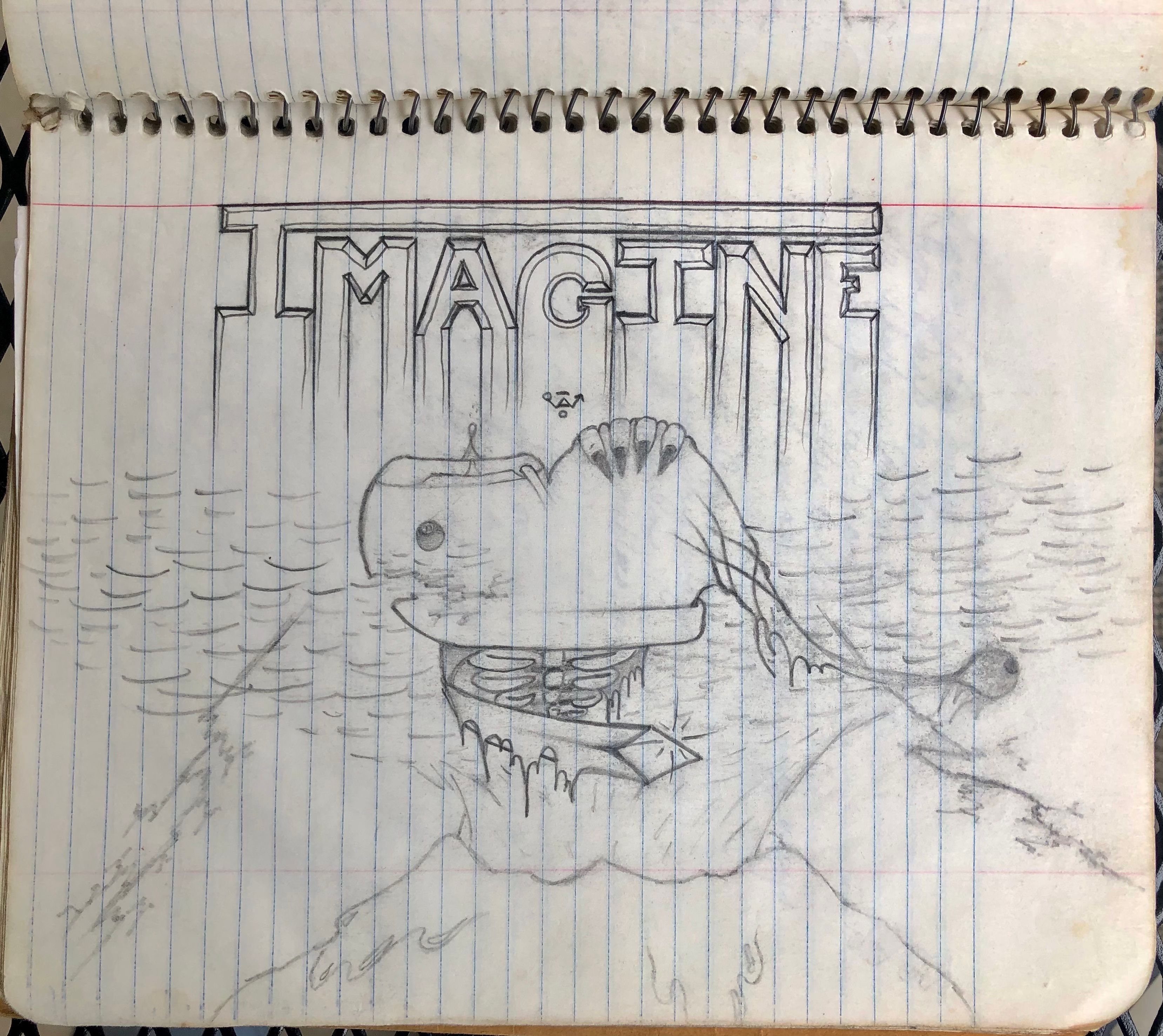 (First Logo Design Idea)
---
Summer of 1990: I had just finished high school and was hell-bent on becoming a rock star.  Rich Dawson & I were friends from the age of 3 years old and he had been taking guitar lessons for a few years, was getting really good, and wanted to be a professional musician as well.  So, he set out to join a band.  He became the lead guitarist for a local Los Angeles band called, BELIEF.  The founder of the band, Chris, was an "interesting" guy and had created some cool songs that he wanted musicians to learn so they could play live and shop to record labels.  Rich, being the lead guitarist, tried many times to get me in the band as the rhythm guitarist, but Chris didn't think that BELIEF needed a rhythm guitarist, so declined the idea multiple times.  Once Rich learned that he had no creative freedom in BELIEF, he left the band.  Chris wanted everyone to just learn the music he wrote and play it as it was written and recorded by him.  Rich was NOT going to join a band that didn't allow him to write his own guitar solos or have any creative input in writing the guitar parts or music.  After that, IMAGINE was created. 
Rich and I started writing music together with the idea of getting enough material to audition musicians to join the band.  We worked with a drummer friend at the time named, John Lee, whom we all knew as "Buddha."  Buddha helped us write some music during this writing phase.  I can't remember why he did not become the drummer for us, but we had a lot of fun working with him.  He was a great guy to be around and to play music with.  The first few songs that we wrote, IF memory serves me correctly, were: "Unknown Soldier," "Sweet Mercy," & "New Day."  We had a lot of other guitar riffs and parts of songs that never got developed into anything, but we were going to use them to audition musicians.   The first couple of people we got to join the band were a bass player named, Harry Herrera and a drummer named, Mike Quarto. Harry was a good, solid bassist and added to the energy of the music and Mike was a good fit and helped to round out the lineup.  All we needed was a lead vocalist and to write more music.  We didn't have a place to practice regularly, so we bounced around from place to place and practiced as much as we could, which wasn't much, but we did what we could do with the schedules and money we had.  I remember we were auditioning Mike one time and he & I went to my aunt's house to jam in her garage.  Nobody else showed up to play, so Mike and I just jammed a bit on some riffs we had and, I do remember vividly, that we jammed the song, "Hot for Teacher," from Van Halen.  That was A LOT of fun.  Rich & I continued to get together, almost daily, to write new music to bring to band practices when we had them.  During this time, we were in search of a band name and a direction in which we wanted to go with the music and image of the band.  So, very often, we would all get together at the restaurant, "Denny's," to write lyrics, brainstorm ideas, talk about plans, schedules, and just hold regular band meetings.  Denny's was OUR place!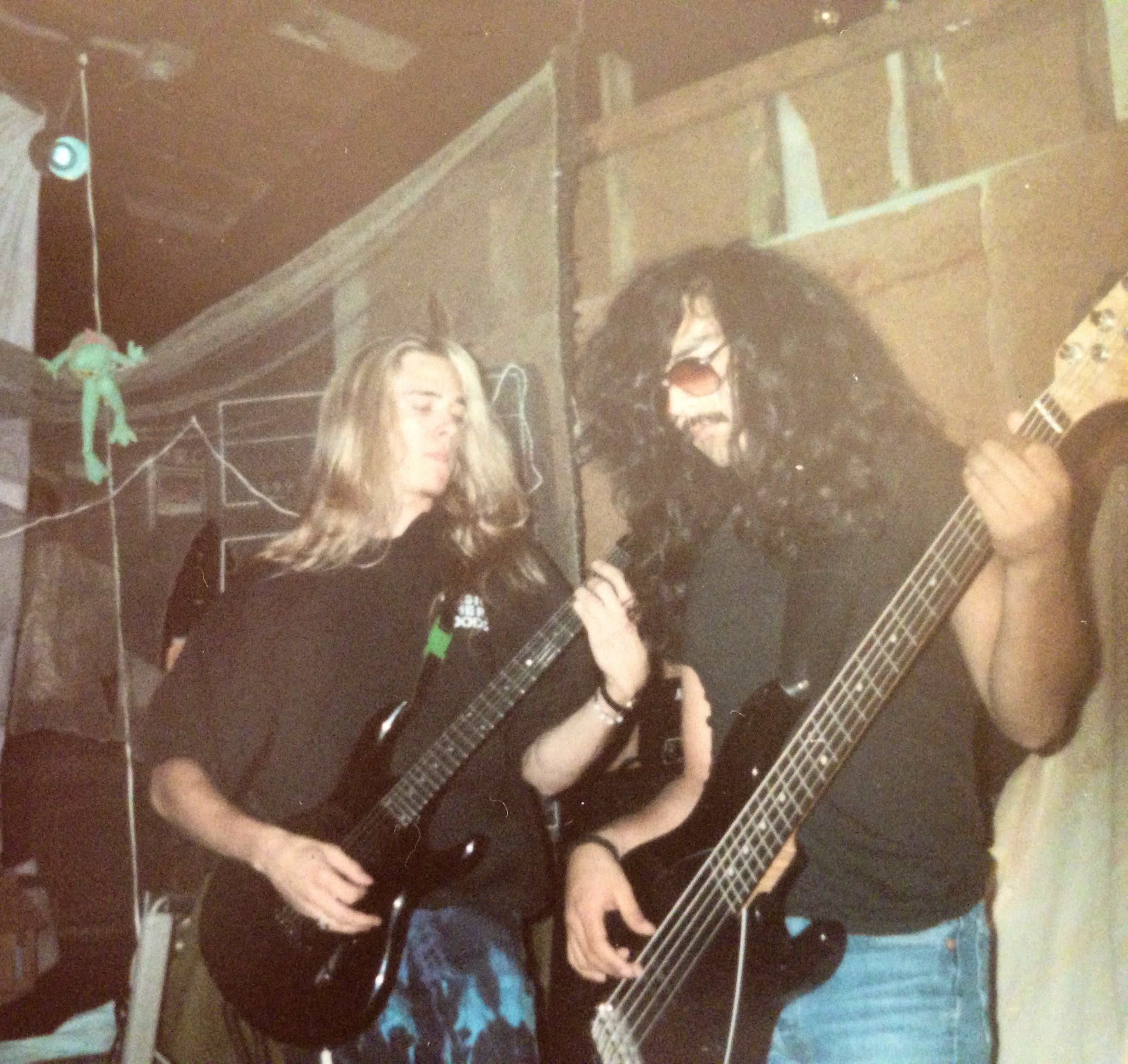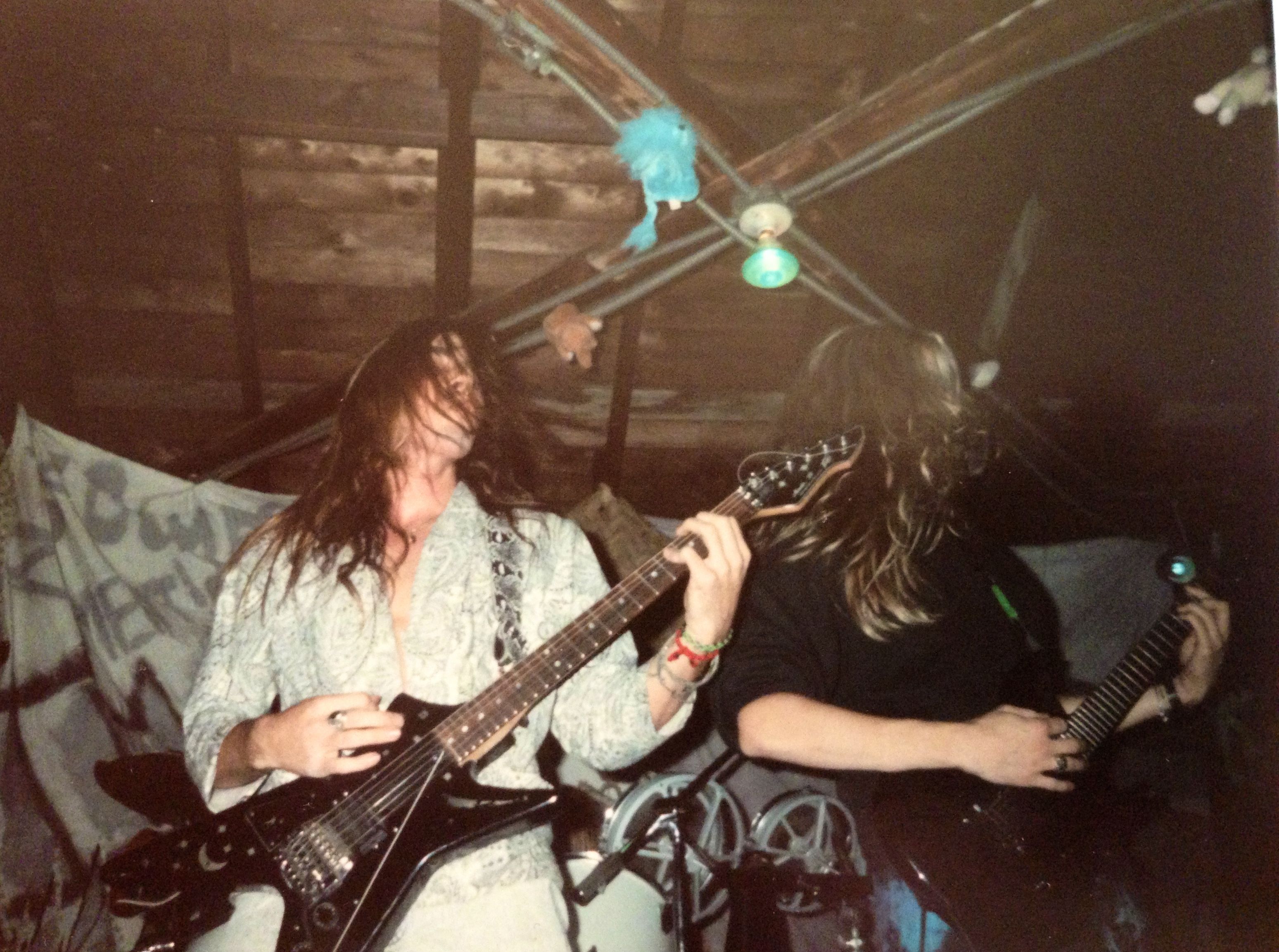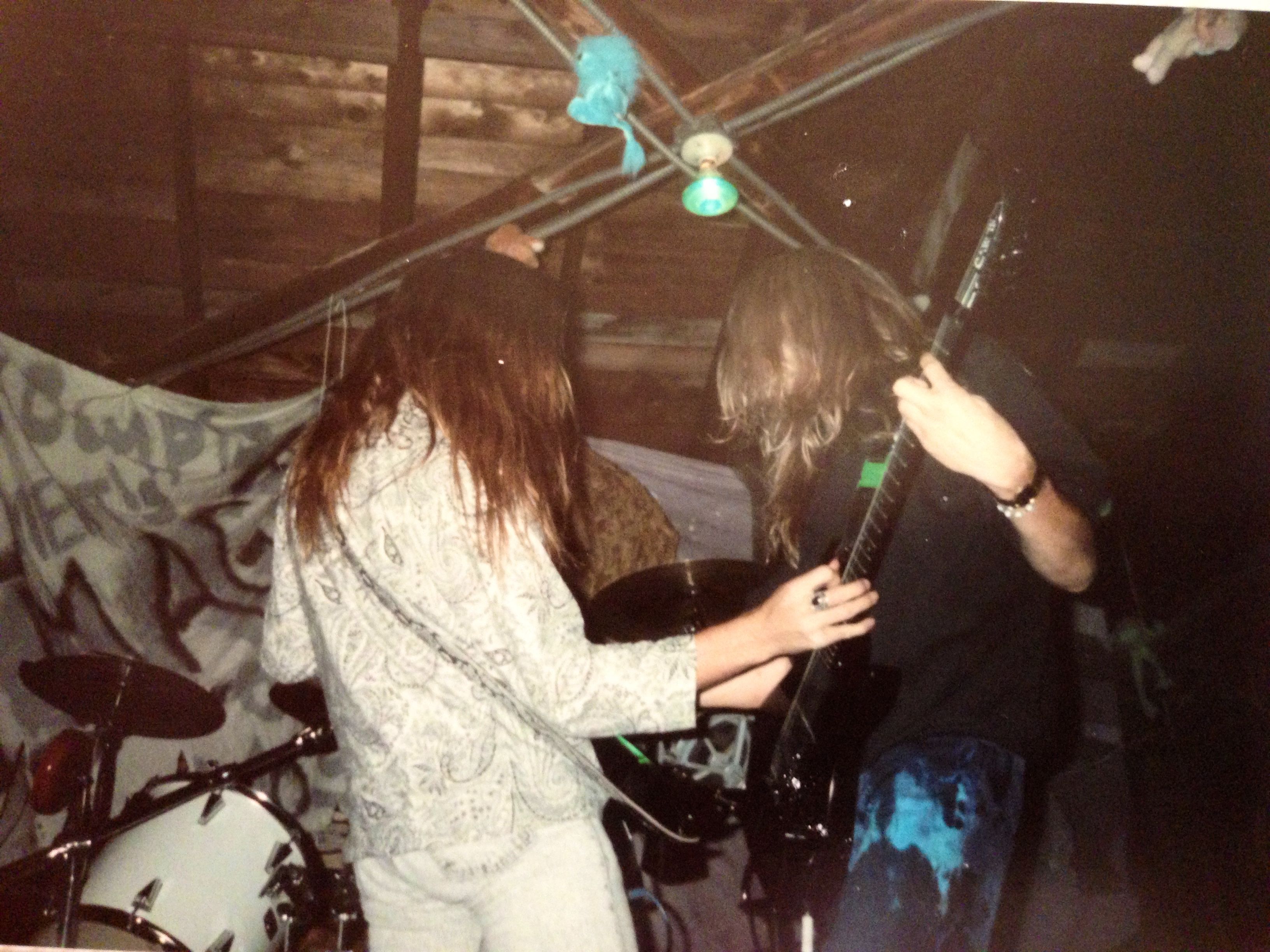 TOP: (Adam Werner & Harry Herrara) MIDDLE/BOTTOM: (Rich Dawson & Adam Werner)
Early-mid 1991: We finally agreed on the band name, IMAGINE.  We had the name, a direction, some songs that were complete, and a new rehearsal space.  It was an exciting time.  We had scheduled band practices about 4-5 nights a week and band meetings after each practice.  Rich and I both worked in the evenings at Roundtable Pizza as delivery drivers.  It was a fun place to work and the tips were not bad.  MANY times we paid for the rehearsal space in pizzas.  The guys that had the rehearsal space were also musicians and, apparently, were more hungry than needing money.  The space was, I believe, $4-$5 an hour.  So, a couple of XL pizzas worked out fine for them.  SUCH GOOD TIMES!!!  So, Rich & I would worked at the pizza place from 4pm or 5pm until close (11pm or so).  Then we would go straight to band practice until about 6am and then go to Denny's to talk about everything until about 8am or so.  We did that about 5 nights a week, during the week, and spent the weekends in Hollywood on the Sunset Strip.  We would walk up and down the Strip from 10pm until 3am and then go to Denny's again to just hang out until morning.  It was the BEST time!  The weekends were for fun and I often went with my friend Vu to the Sunset Strip but I was there absorbing the atmosphere, learning about flyers/advertising, music from other bands, the fans of the bands, etc.  I learned A LOT from those experiences, which, I'm certain, I still use to this day in my own musical endeavors.  Summer of 1991, we were struggling to find a vocalist and getting frustrated that there was nobody out there that we felt was a good fit.  Looking back now, we just had unrealistic expectations.  One night, we were at band practice and Mike was late.  Rich & I were outside talking and waiting for him, when he finally rolled up; with some friends.  These friends were girls and we were not happy that he brought them to practice.  We, literally, had a band meeting days before and agreed to make band practice a place for work, to write music, and to stay focused on the goal.  The agreement was: No drinking alcohol or using drugs before or during band practice and no girls at practice.  We did not want ANY distractions from our focus.  Yet, Mike brought 3 girls the very next night.  So, needless-to-say, I was not happy and quite rude to them as they showed up.  My anger was toward Mike, not the girls, but that line was pretty invisible at the time.  It turned out, one of those girls became the one I married and made a life with.  Yes!  My wife did NOT like me that night and was not too interested in hanging out with us beyond that point.  However, Mike and her knew each other from Junior High School and ran into each other one night at a club.  So, Mike invited her to come check out his band.  Since we didn't have any performances scheduled, he thought it would be cool to let her come to a practice to check us out.  She was not going to go by herself, so she invited a couple of her friends to join her.  Smart of her!  At the time, I did not know any of this and just saw it as a blatant disregard for the rules that we had agreed upon for band practices.  Anyway, after quite a few times of hanging out with the girls (after practices), we just got to know each other and sometimes went to their house after practice instead of Denny's.  That's how I met my wife.  Thanx for "breaking the rules" Mike!  I'm a lucky guy!
1992: Not being able to find a lead vocalist, we decided to play some house parties as an instrumental band.  Rich & I were big fans of Joe Satriani and thought that we could make our music interesting enough as an instrumental group; at least until we could found a vocalist.  Rich was more than capable of improvising & soloing forever, so we made the lead guitar the main focus.  The performances were fun and seemed to have gone over well enough, so we decided to book some shows at some clubs.  The first club we played at was a place called, "Mancini's."  We had a blast and knew that THAT was what we wanted to do.  Although the music as instrumental was fun, we still knew that it was not what we wanted and knew that we still needed a lead vocalist, but we continued to play as an instrumental group while we auditioned vocalists.  We played at a Halloween party that was held at a residential home in Granada Hills.  This was THE LARGEST CROWD we ever played in front of!  Hundreds of people crammed into this house, back yard, front yard and filling the neighborhood.  It was amazing!  We got invited to play again, the next Halloween party in 1993.  That one was not quite as large but still fun.  We also got to play at a legendary club called the Country Club.  We were so excited to be there!  This place was on the same level as the Sunset Strip clubs but located in the valley.  Bands like Mötley Crüe, Poison, Quiet Riot and a bunch of metal bands had played there in the 1980's. It was legendary! 
The next few years:  We continued to practice regularly, write new songs, play shows around town and just keep things going and continued to keep an eye out for vocalists available, but could not find any.  We didn't realize it back then, but I believe our expectations for a lead vocalist were a bit unrealistic!  We were interested in someone that could have the vocal power of a Bruce Dickinson, a range of a Geoff Tate or Miljenko Matijevic and the rawness of a James Hetfield.  Yes, we were unrealistic!  But, that's what we wanted in a vocalist.  Anyway, during this time, we lost musicians and gained new musicians.  Harry was the first to depart from the band.  We were in-between rehearsal studios and bounced around for a bit.  One place that we rehearsed at quite often was Topanga Theaters.  This was a movie theater in the valley that my friend Brian Weimer was the manager of and he would let us practice there after the last movie showing let out.  So, we would start rolling in all the equipment into the largest theater while people were leaving.  I always wondered what they thought we were doing or what was going on.  LOL!!!!  Then, we would practice all night, until morning, while the cleaners would clean the theater for the next day.  That was SUPER FUN and we were very grateful to Brian for allowing us to that!  But, we did bounce around from place to place for a while and that was very difficult because we had to load and unload the equipment each time we practiced.  We had A LOT of equipment!  Rich and I had our huge amps, guitars, pedal effects, etc., Mike had a HUGE drum set, Harry had a HUGE bass cabinet (Almost the size of a refrigerator) and I had a pickup truck.  So, I was the lucky one to transport everything from place to place and Rich & I were the lucky ones to load up and unload everything, everywhere.  Harry & Mike were usually late (Sometimes, didn't even show up) and didn't help with any of it.  THAT GOT OLD and one day Harry didn't show up to practice, so we left him equipment and let him know that he was no longer in the band.  Therefore, we were now looking for a new bass player.  1993, we secured a new rehearsal space in Santa Monica and didn't need to move the equipment around any longer.  So, we started to audition bass players.  One night, we had someone scheduled to come down and jam with Mike for a while before Rich & I got there.  We wanted to bassist and the drummer to connect and see if there was synergy between them before we went through an entire audition.  So, Rich & I show up around 10pm - 11pm and found a guy sitting outside our practice room, napping.  We asked who he was and he said he was the bass player waiting for his audition.  We were totally confused because we only had one audition that night, which should've started around 8pm with Mike.  Well, Mike did not show up and the bass player waited.  We were livid!  We let him in, get set up, and we jammed with him for a while.  He was great!  We offered him the position, IF he wanted it.  That's the night Ted Lewis joined the band and we let Mike go.  So, we were in the market for ANOTHER musician.  Now, a drummer.   
January 17, 1994:  The Northridge Earthquake happened.  It was one of the most devastating natural disasters to happen in the area, since the 1971 earthquake; and certainly the most devastating to me in my short life.  Everything was put on hold for a while.  Eventually, life started to get back to normal and we resumed practices and auditions for drummers.  We finally got a new drummer that year.  Eric Rogers became the next drummer for IMAGINE.  He was a very solid drummer, creative, groovy and he worked well with Ted.  It was great!  We were back playing again and played a New Years party in 1994 that was super fun and continued to practice to get Ted and Eric up to speed on the songs and to write new ones.  Also, we found our first vocalist in 1995.  He was a guy from Argentina and had a lot of what we were looking for in a vocalist.  I'm not sure how we found him, but Rod Arias became the vocalist and we were on our way to fulfilling our dream as a band!  Once we got everyone up to speed on the songs, we played a few shows.  One night, we had a show booked at Mancini's again and we were all so excited to finally play a show as a FULL BAND!  We were at the club, waiting to go on, when Rod showed up with serious vocal issues.  He was drinking hot tea with honey and trying to get his vocals good enough for the show.  We went on and did our set, and it did NOT go well!  Rod's voice was thrashed!  He could not hit the high notes that he usually could, with not problem, or sustain notes for very long.  His vocals were just shot and everyone could hear it.  The review we got, in the local music paper, for that performance was not good, to say the least!  It turned out that Rod went out to a karaoke bar the night before the show and ruined his voice.  We were so disappointed and pissed off, that we kicked him out of the band shortly after.  We were, once again, an instrumental band until we could find another vocalist.  It was very disappointing because we knew how difficult it was to find Rod to begin with and didn't want to waste much more time on playing instrumental music again.  So we just kept going. 
1996-2000:  Life was getting a bit more busy, for all of us, and started to make things a little more complicated, with regard to scheduling practices, band meetings, recordings, shows, etc.  I got married in 1996, Eric left the band, Ted decided it was time to depart from the band because he was getting more and more busy with work, Rich & I were in school and life just kept happening around us.  So, Rich & I were back to square 1!  It was him and I again, looking for a bassist, drummer, and vocalist!  After Eric left, but before Ted left the band, we had another vocalist, somewhat unofficially.  We were working with a childhood friend of Rich's named, Jeff Rubell.  We never got to play any shows or anything significant, so, he was kinda in the band but didn't get to do anything with it because Ted left and life was happening around us.  During this time, Rich was a student at CalArts and knew a bassist and drummer, who were also students at CalArts, that wanted to join the band.  We really didn't even audition them, we just started playing.  That's when we acquired our final lineup for IMAGINE before it ended.  Our newest members were Kentaro Otsuka on bass & Jay Gravatt on drums.  These two guys were such masters at their craft that we got a new surge of excitement and energy that was lacking for so long.  We put everything into it again; practiced regularly and played as many shows as we could book.  We played new clubs that we had not played before, like the Coconut Teaser on the Sunset Strip and we were featured on a public access television show called, Kruzin' Kenny and just went all out.  We were having fun again and felt like we were progressing.  We also decided at this time to stop looking for a vocalist and let Rich sing.  He took on the role of lead vocalist and lead guitarist.  Not an easy combination but he pulled it off.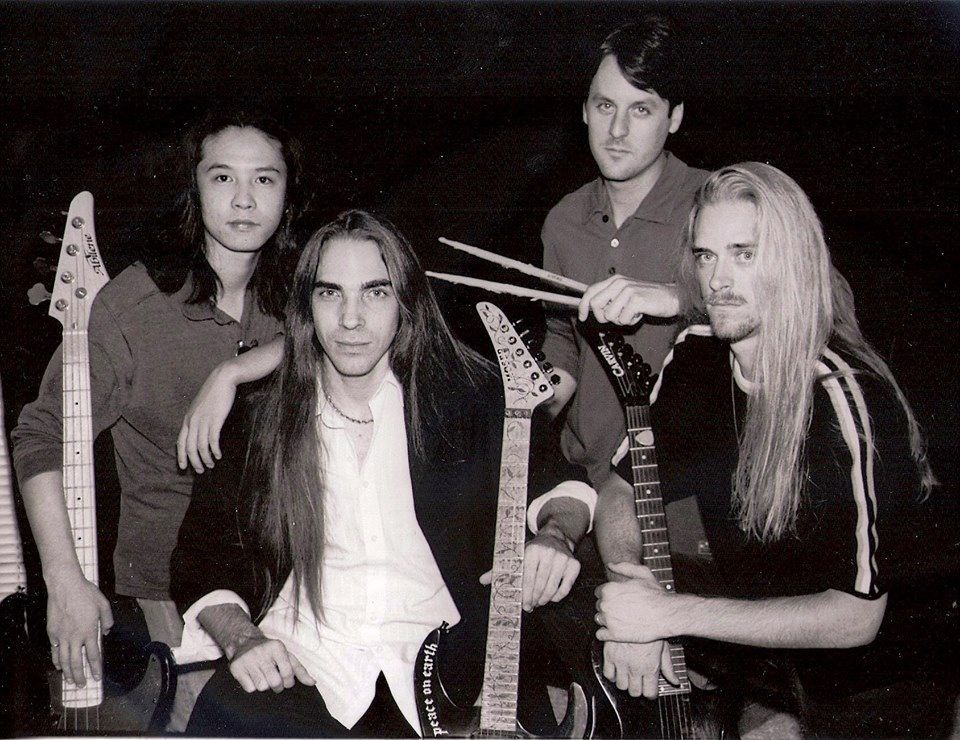 (Kentaro Otsuka, Rich Dawson, Jay Gravatt & Adam Werner)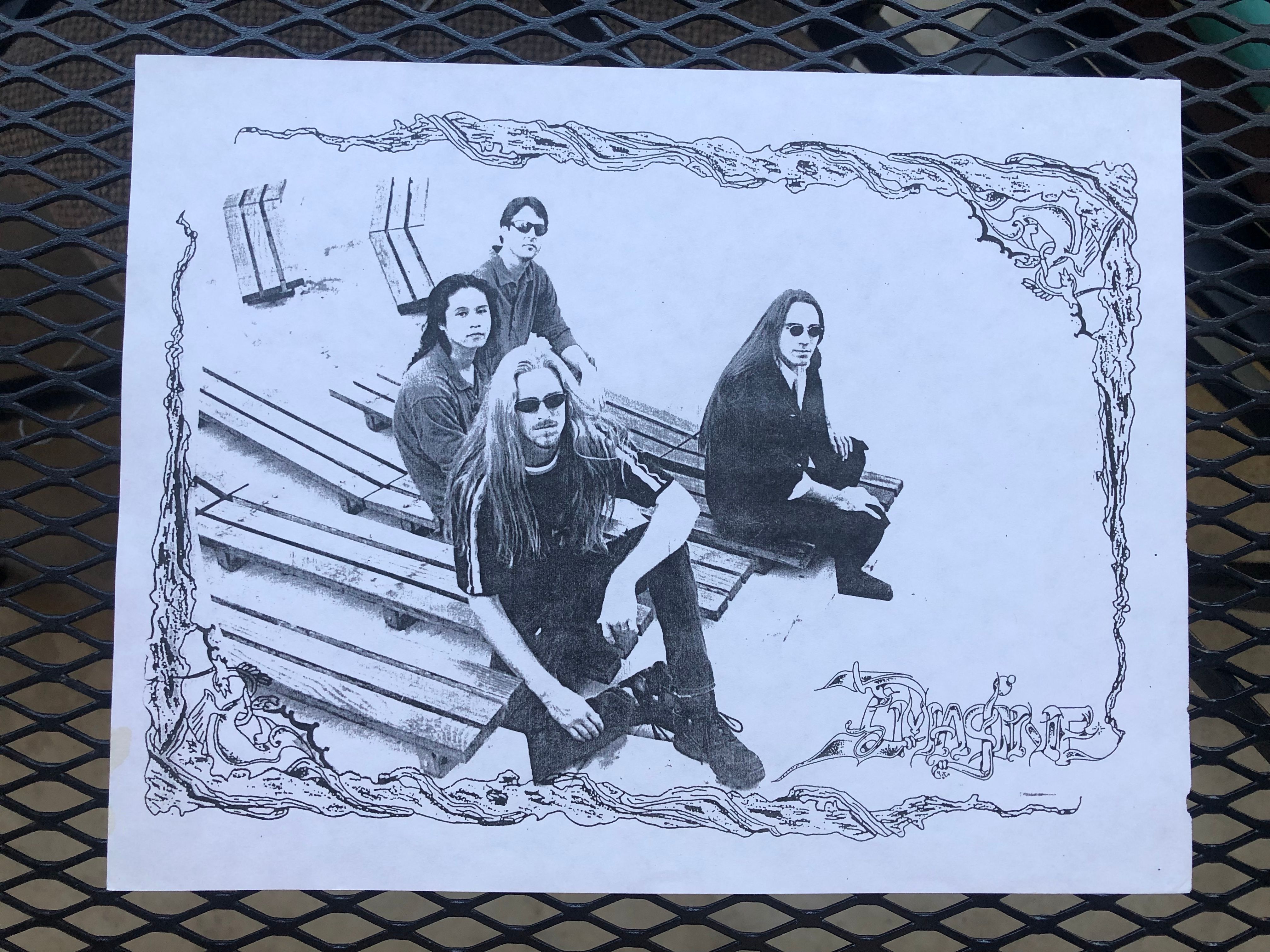 (Flyer Template)
May 13, 2000:  IMAGINE FINAL PERFORMANCE.  We did a show at a club called, Paladino's, which was our last show as a band.  It was time to hang it up and move on to something else.  My daughter was born in 1998, I started my teaching career in 1998, my son was born in 1999, and my wife and I were starting our lives and family.  There was less and less time for music for me and I just had to let it go.  I was ready.  The demands of the band and all the attention it required just clashed with the attention I wanted to give to my family, and I was ready for a change.  I gave IMAGINE 10 good years and, believe me when I say, I gave ALL OF ME during those 10 years!!!  If I had to do it all over again, I would NOT change a thing!  Those experiences were some of the most amazing experiences of my life.  IT was what I needed at the time, as a child of a broken home.  I did not drink alcohol or do any drugs.  So, a high energy Heavy Metal band, utilizing my creativity, was exactly what I needed to cope with my life's events at the time.   
I look back on all of those memories fondly and am grateful I had those experiences!  I am missing some events and people in this piece, but this is the closest I could get to sharing with you all, my life with IMAGINE from 1990-2000.  I hope you enjoyed reading this and listening to some of the music we created.  I would be GROSSLY REMISS if I did not mention our good friend, roadie, and essentially, 5th member of the band, Jonathan Watts.  Jonathan was there early on with the band and helped us load, unload and transport equipment all over the place.  He was Mike's drum tech, who helped to set up Mike's oversized drum set each practice and show.  He helped with everything we needed for the band.  He was such an important part of the existence of IMAGINE and helped the machine function.  We would not have been able to do a lot of what we did without Jonathan Watts!  THANK YOU my friend!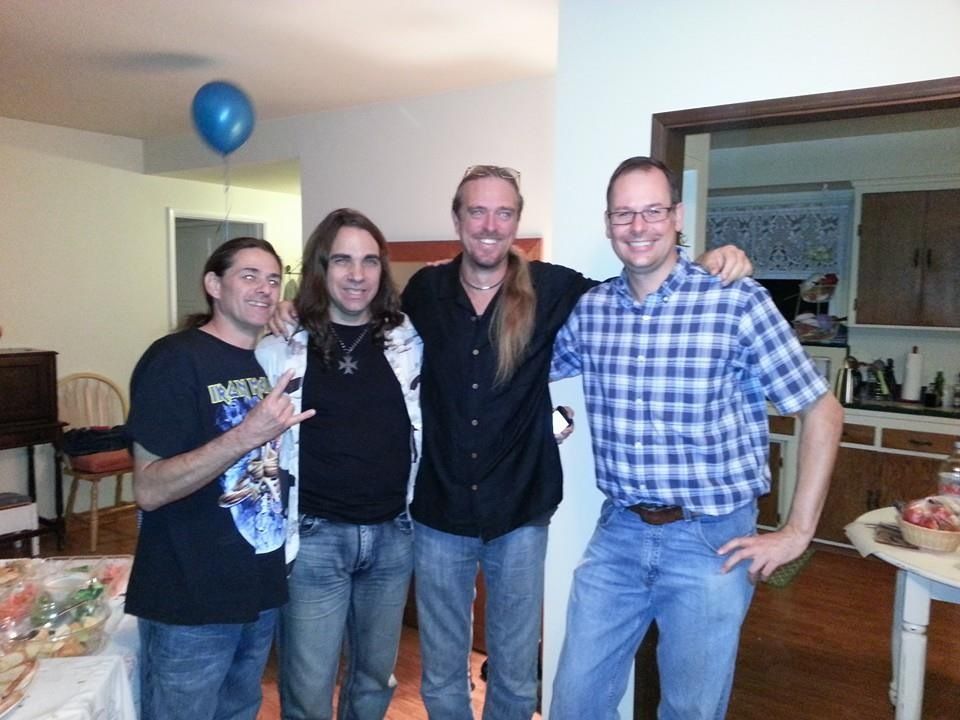 (Mike Quarto, Rich Dawson, Adam Werner & Jonathan Watts)
I would certainly LOVE to hear from ANY of you that may have memories of IMAGINE, or us members, individually, around the music of IMAGINE!!!  Please share your thoughts, memories, experiences with us and THANK YOU for taking the time to read, share and be a part of this experience! 
Adam Werner
Click here for more info, photos & music . . . HIDDEN GEMS
---