d e e p 

March 20, 2017 was a scary but exciting time for me, creatively.  I was releasing a collection of music that I had created, over many years, and it marked my departure from the "progressive fingerstyle" guitar stylings/techniques, made famous by the late Michael Hedges, that I had focused on for many years.  This album was a focus on the music only!  I wanted to create something that spoke for itself and didn't require visuals to express the emotions.  I believe that I accomplished my goal.  The music is very genuine, true and, well, deep.  It speaks for itself. I'm extremely proud of what I had created.
In honor of the 5-Year Anniversary of the release of my album 'd e e p,' I wanted to share some memories, inside stories and liner notes about some of the tunes on this award-winning album (click title to listen): 
---
Sage & Sand (for Tristan) - D A D F# A C# 
I wrote this tune for my son, Tristan.  When he was about 5 years old, we had a "father-son moment" where I felt that we really connected.  It was an amazing feeling.  This music came from that experience.  During that time, I was involved in New Land Music and had met Samite, whom I admired as a musician from listening to his collaborations with Will Ackerman in the past.  I knew right away that I wanted Samite to be a part of this musical creation with me.  So, after about 8 or 9 years of developing the music and surviving life's challenges, I FINALLY had the opportunity to record the music and send it to him for his creative input and musical parts.  I explained the story behind the music and told him what I was hearing from him, and he sent me EXACTLY what I was hearing in my head (but even better)!  He's amazing!  He created such a beautiful flute part and included a speaking voice, speaking in his native tongue, from Uganda, called Lingala.  It's a father passing down knowledge to his son about how to save the planet from all the destruction that previous generations had caused.  The answer to saving the planet was with LOVE.   
This piece of music is so very special to me because it was for my son, whom I very proud of and that I got to work with Samite. 
The title came from a rock band I knew in the 90's (during my Heavy Metal days) called, "Belief."  They had a song titled, "Sage & Sand."  I always thought that that was a cool title.  So, I used it for this tune and felt it seemed very fitting because it had to do with a father and son.  SAGE representing the father, as having a wealth of wisdom & SAND representing the son, as having a wealth of time.  I wanted to add my son's name to the title as well.  It just all seemed so fitting. 
Thank You - D A D E B A 
This is a tune that I wrote many years ago to show my appreciation to all of those people who I've crossed paths with throughout my life that instilled a bit of knowledge and wisdom in me, shaping me into who I am today.  Just a way to say, "Thank You" for helping me grow as a person. 
I originally released this piece on the Woodsongs compilation album I produced for New Land Music, back in 2006.  It was a "solo" piece with some eBowed guitar that I played over the main guitar part.  The version that is on 'd e e p' is a duet with bassist Kris Tischbein from Canada.   
I believe it was 2014, during a very dark period in my life (personally), I got a random message, out of the blue, from someone I did not know but was connected with through social media.  He just wanted to tell me how much my music meant to him and that he admired my talents as a musician.  His favorite piece of mine was, "Thank You."  That message changed me immediately and I started to feel like a worthy human that had a purpose for creating music.  That message came from Kris Tischbein.  There's no telling where I would be today if I had not gotten that message from him, but I can assure you that 'd e e p' would not exist today without it!  Thank you Kris.  You never know how a, seemingly, simple gesture of caring and interest may affect someone.  Always…BE KIND.  So, from that message, I asked Kris if he would like to play on this version of "Thank You."  He agreed and did an amazing job!  What a special piece for me now; even more-so than what it meant before.  The meaning to this tune just seems to evolve over time.  After all I've been through these past few years, the meaning of "THANK YOU" grows and gets even deeper! 
The Hunted - Eb G D G Bb D 
This piece developed as I was working on learning and getting proficient at the amazing tune by Alex de Grassi, "Deep at Night."  It's in the same tuning but quite a different feel and emotion.  However, Alex's playing style was an inspiration and a style I was not familiar with or comfortable doing, using the right hand as I do.  It's a heavily right-handed piece that I'm not used to doing and had to really work at it to get the right tempo, flow and feeling.  It represents that nightmare that we've all had as a child, where you are being chanced by something and the more you try and get away, the less movement you make.  You just can't seem to run or get away fast enough.  Did you get caught ever?  What do you think about the result in this tune? 
Footprints in the Fog - C G C G C D 
I really had no idea where this tune would go, how it would develop or if I could even complete it.  I knew I wanted it to be a guitar duet but I wasn't sure if I should be the only guitarist to do all parts.  So, I just sat on this tune for a while until I started to see the album develop and realized that there is one person that I really wanted to work with.  So, I asked my buddy Ken Verheecke to join me on this tune and what he created just made this tune what it is!  His delicate touch and compositional mastery was more than what I was imagining for this piece.  Thank you Ken for such beautiful guitar playing! 
Also, my great friend Chris Yeaton, was writing a second guitar part for this piece as well, but developed something that totally stands on it's own and is something that I am excited to hear when Chris finally releases it.  So, STAY TUNED FOR THAT!!!
The Impending Death of the Virgin Spirit - C# A C# G# A E (capo 2) 
There is SO MUCH of Will Ackerman's music that I connect with, but THIS is, in my opinion, the greatest piece of solo guitar music ever written!  It is THE ONLY piece of music that speaks to me on a level that no other comes close to.  I connect with this piece of music so deeply & I always have; ever since I heard it the first time, back in the 80's from Will Ackerman's album, "Passage."  Years later, I read the story behind the music from a Will Ackerman liner note and it JUST MADE SENSE why I was so drawn to this music.  So, once I decided to pursue a solo guitar career, I HAD TO LEARN THIS PIECE OF MUSIC!   
Learning someone else's music is very scary because you want to do it justice and retain as much of the authentic elements and originality as possible, but you also tend to put a bit of yourself in the music when you perform it.  I know that there is a bit of me in this piece and every time I perform it, but I hope that it is still true to the absolute beauty of the original version as well.  I hope that Will appreciates my version. 
I've heard so many version of this tune that Will has created over the years.  From a solo piece to duets with various instruments and orchestration, but I do not believe that I've ever heard a version with guitar & bass.  If there is, please correct me if I'm wrong, Will!  However, I had come to know Michael Manring many years ago and have had the honor and pleasure of working with him on various projects and live performances over the years.  Since, I don't believe that Will ever did a version of this tune with Manring, I wanted to do that for my album.  So, I asked Michael if he would be interested in providing some bass for this tune.  I love this piece even more now!  Thank you Michael Manring for your creative contribution and to Will Ackerman for creating the greatest piece of guitar music my ears have ever heard! 
FUN FACT: The recording of the guitar you hear on this album was the first take.  We did a second take, just to have for whatever reason, but the first take, we felt, was just so true, raw and good, that we decided to go with it.
Deep - Eb G D G Bb D 
Here is the title track to this album and a piece of music that I was very nervous to release in this version because I just wasn't certain that it was complete.  Does it need more?!  Does it really stand on its own?!  Is it too empty or boring?!  MAYBE.  Some may think so & others may not.  I don't think so anymore.  The pure simplicity of this tune was exactly what I was going for.  Again, I wanted the music on this album (as a whole and within its parts) to speak for itself and I didn't want to rely on any visual aspects to "impress" the listener or over produce any piece that would take away from the meaning of the music.  This tune was just that!  It's just me, playing some music that speaks in a way that I intended it to speak.  I will probably create other versions of this tune in the future, but what better way to introduce this piece, as it is. 
My initial concept of this piece came from the interest of doing some kind of hammer-on-slide type of technique.  So, the opening riff became the theme of the tune.  I titled it deep because it represents deep meaning for me, stepping out of my comfort zone, creatively. 
Psyche vs Soul - C G C G C D 
This was the last piece I recorded for the album and it almost didn't make on the album because it came to the party so late!  I convinced Adam Howe to allow me to record it and add it to the list of tunes to mix and master.  He, reluctantly, agreed.  I had just received a crazy new guitar tool called, ToneWood Amp, and I was testing it out and playing with it while Adam and I were in the mixing process for the album and I came across the first few chords you hear, in what would be the verse, in this tune while using the ToneWood Amp.  The reverb preset on the device just made those chords speak a very interesting way that sparked my creativity and that flow made the tune develop very quickly!  The meaning behind the title has to do with my constant struggle between my ego and my true self.  Musically speaking, my ego always wants to be in the spotlight and since this album was a complete departure from that ego-centric desire, I felt that the title was fitting.  My soul came through on this piece.  There is no ego here or on this album anywhere.  Another element that I love about this piece is the time signatures bouncing back and forth from 3/4 to 4/4 throughout the tune.  Fun stuff!  My good friend Kentaro Otsuka added some very delicate, expressive and creative bass to this piece. Thank you Kentaro!
Kealia Sunrise - D A D F# A C# 
On the East side of the island of Kauai is a beach called Kealia.  It has some very beautiful sunrises and this piece of music had that in mind while I was writing it.  I am NOT a Hawaiian Slack Key guitar player but this tune had a Hawaiian quality to it that drew me back to Kauai (in my imagination).  Once I finished the tune, I felt that I needed a REAL Hawaiian Slack Key guitarist to contribute to the music.  My first thought was my good friend Chris Yeaton.  I'm not sure exactly what happened but I have a feeling that life got in the way of us working on this tune together (as well as my need to finish it for the album's release).  So, I asked Jim "Kimo" West, whom I met a couple of years earlier, if he would play on this tune with me.  I certainly love what he did.  Thank you Kimo!  I'm sure that there will other versions of this tune with other musicians in the future, but, CHRIS!  C'MOOOOOOOOOOOOONNNNNNN!  DOIIIIIIT!  DOIT NOW!!! (inside joke). 
Early Mourning: Passage - C G E G A C 
The closing track is a tune about reflection. during the time I was creating this music (2006 - 2016) I was losing friends to cancer, infection and some taking their own lives.  I was reflecting on lives gone way too soon.  I was thinking about people losing their loved ones, spouses, relatives, children, friends; even those losing themselves.  Trying to demonstrate that feeling in music was very difficult because I wanted the music to be delicate, sensitive, peaceful, yet positive.  I didn't want it to be dark or morbid.  So, I was focused on those left behind reflecting on the wonderful and happy times shared during their times together in this life.  The initial sadness of thinking that they are gone but becoming overwhelmed by the beautiful times they shared together and the impact they had on their own life.  The music is very simple and repetitive, by design, because I didn't want anything in the music to distract the listener from making their own reflections.  Adam Howe and Sydney Easton made it all happen with their musical contributions!  I am VERY happy and proud of how this tune turned out. 
Well, there's a little bit of some inside thoughts and liner notes to my album, "d e e p."  I hope you enjoyed reading about the meanings behind this music and the music itself.
Let me share some thoughts and experiences with you about the recording process and working with Adam Howe.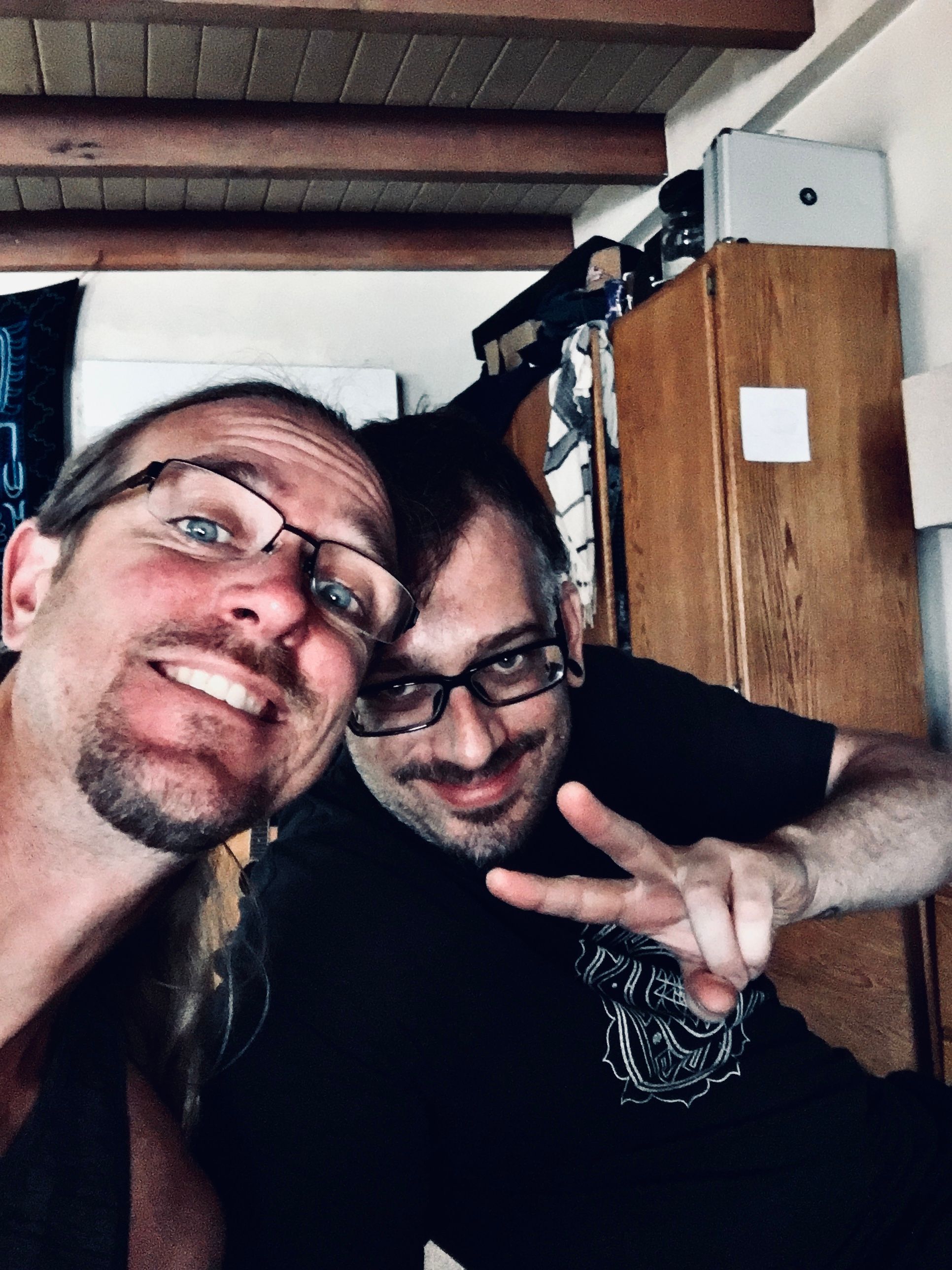 (Adam & I in the studio making magic)

Adam is one of the most talented and creative people I know and a blessing to work with.  The experience I had recording and producing this album with him was none that I had ever experienced before; not that I had many experiences to compare to, but still.  Adam is a total professional, extremely knowledgeable about so many elements of music and music production that I learned a ton working with him on this project, as well as working on our first Adam & Adam album, "UNSPOKEN."  We spent an entire day testing various microphones, microphone placements and pairings with direct lines from my guitar.  It was truly the key that made this album sound as good as it does, from a production standpoint.  We went through a NUMBER of configurations and narrowed it down to 2 mics and placement configurations, which we used on the album.  The #1 configuration was used for all main guitar parts and the #2 configuration was used for all other supporting guitar parts that I played.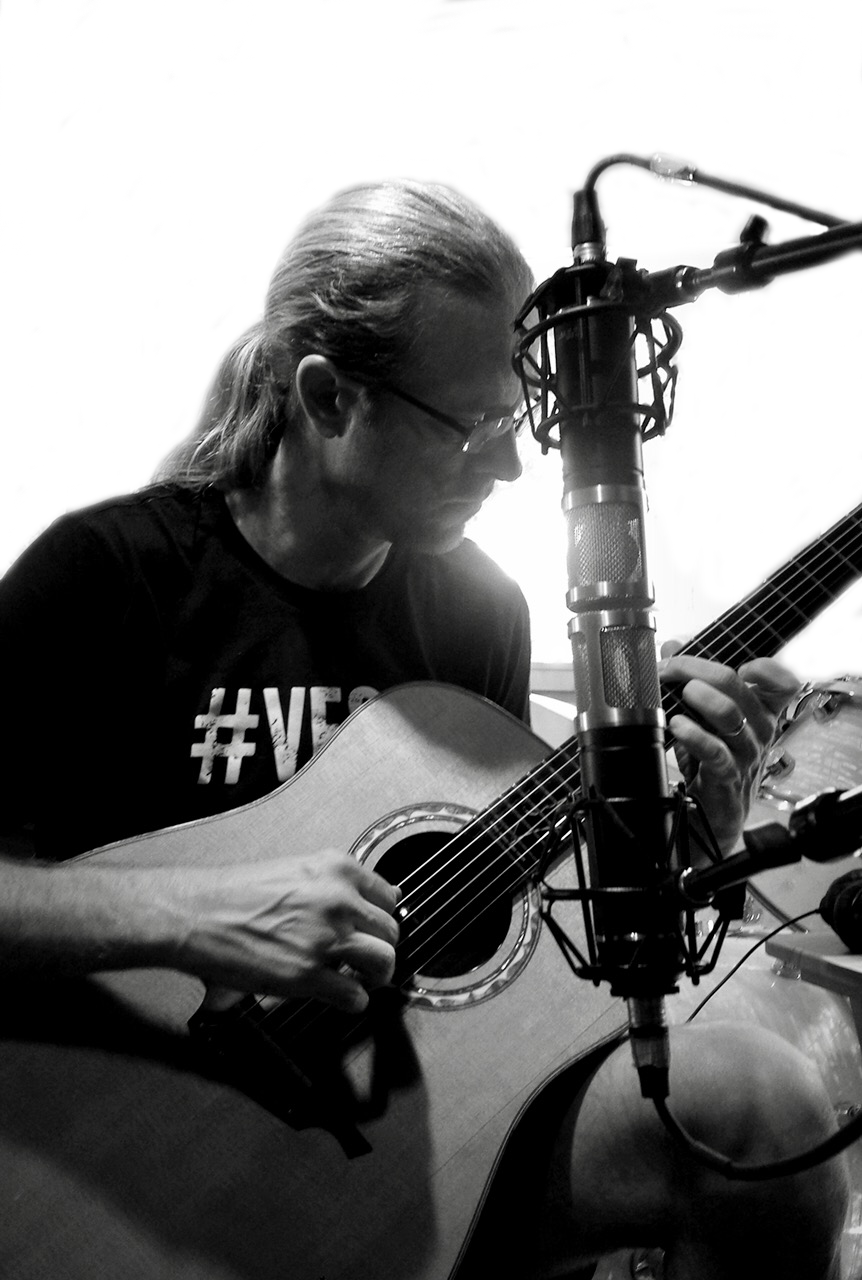 (This was the #1 mic configuration we chose for the main guitar parts)
Also, one of the greatest things that Adam did for this album was allowing me to take the time I wanted/needed to try every idea I had to make sure that we were getting the best of what we had for each individual piece of music.  There was no rush or hurry to complete anything on this album.  That was another key that added to the quality of this album.  We started July 1, 2016 and received the Masters on February 1, 2017.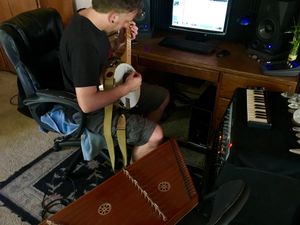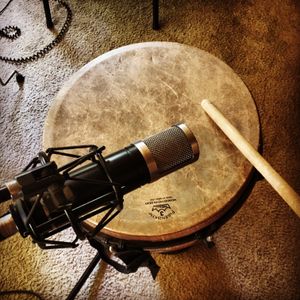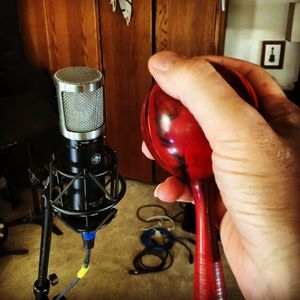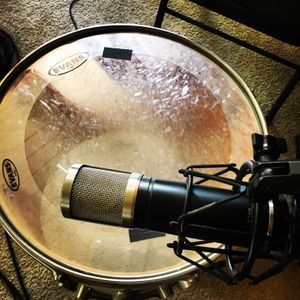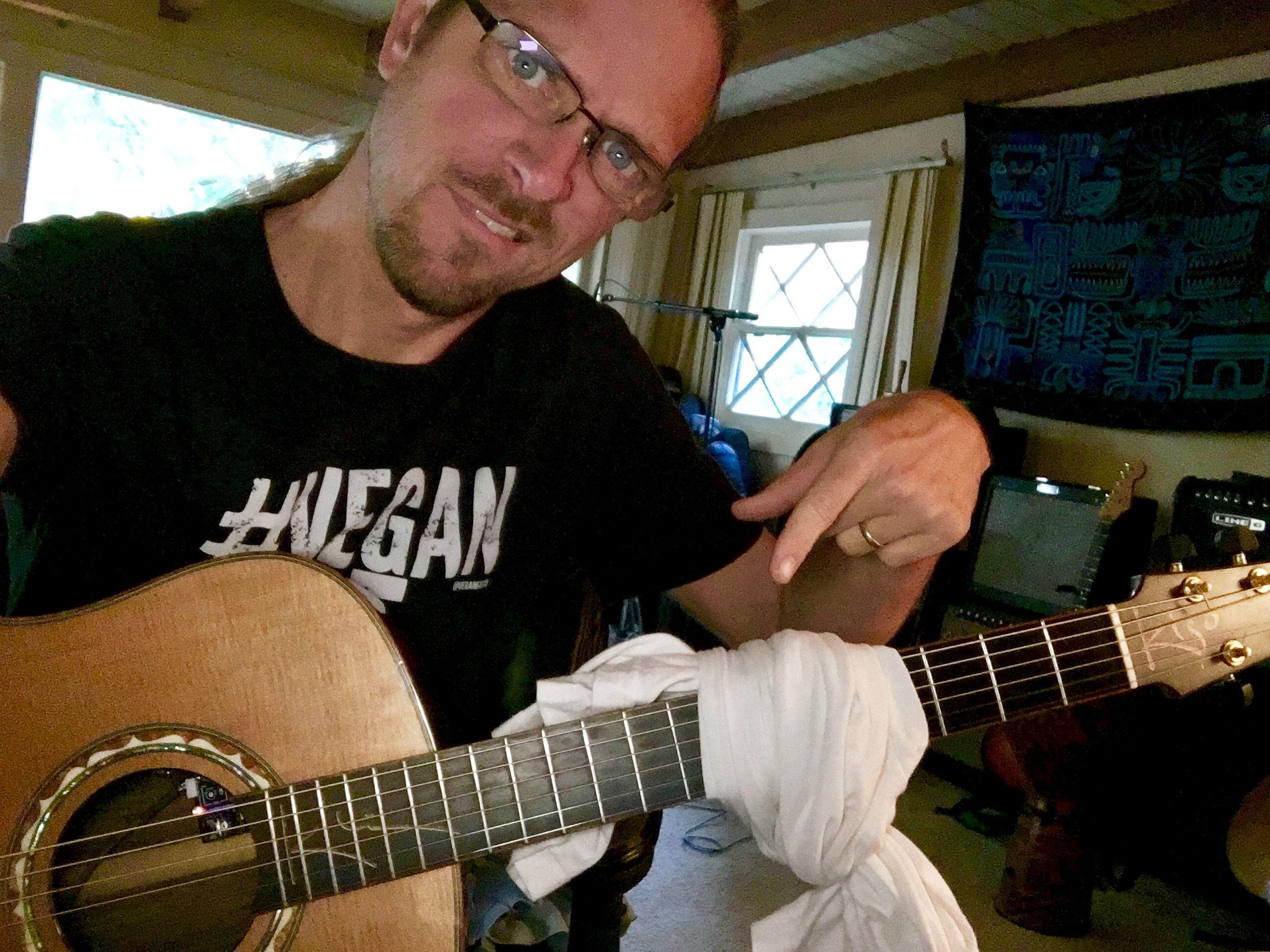 (I'm not even sure what this technique is called or what we used it on)
JJ Golden did an incredible job Mastering the album and my son, Tristan, helped so much with the artwork.  I came up with the ambigram idea for the name, 'd e e p,' but Tristan helped me with all the other artwork.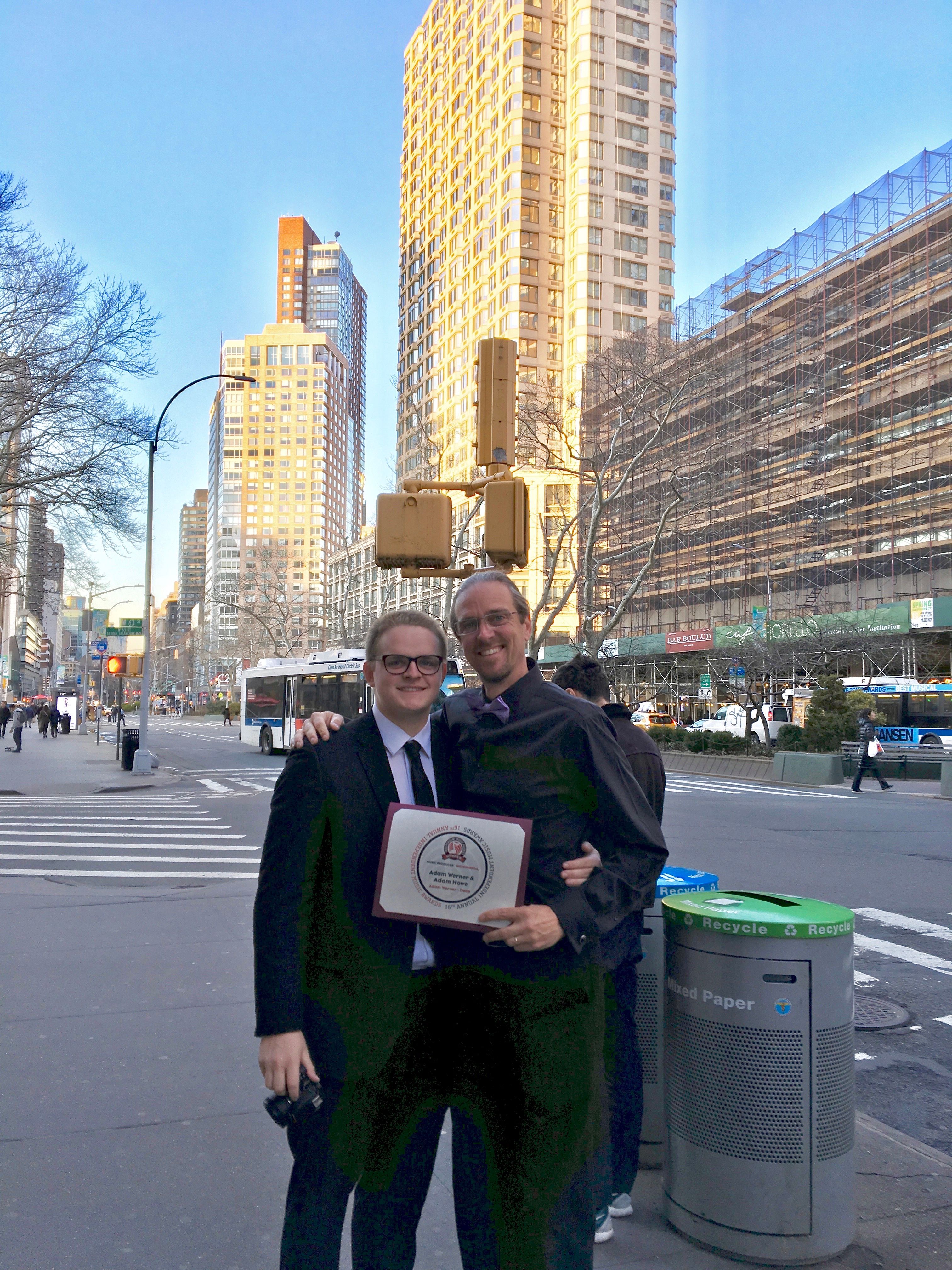 (Tristan & I in New York at the IMA Show in 2018)
This entire experience was something that I could not have imagined coming to fruition, but I am so grateful to the people that helped to make it a reality for me and it's a project the I am extremely proud of!!!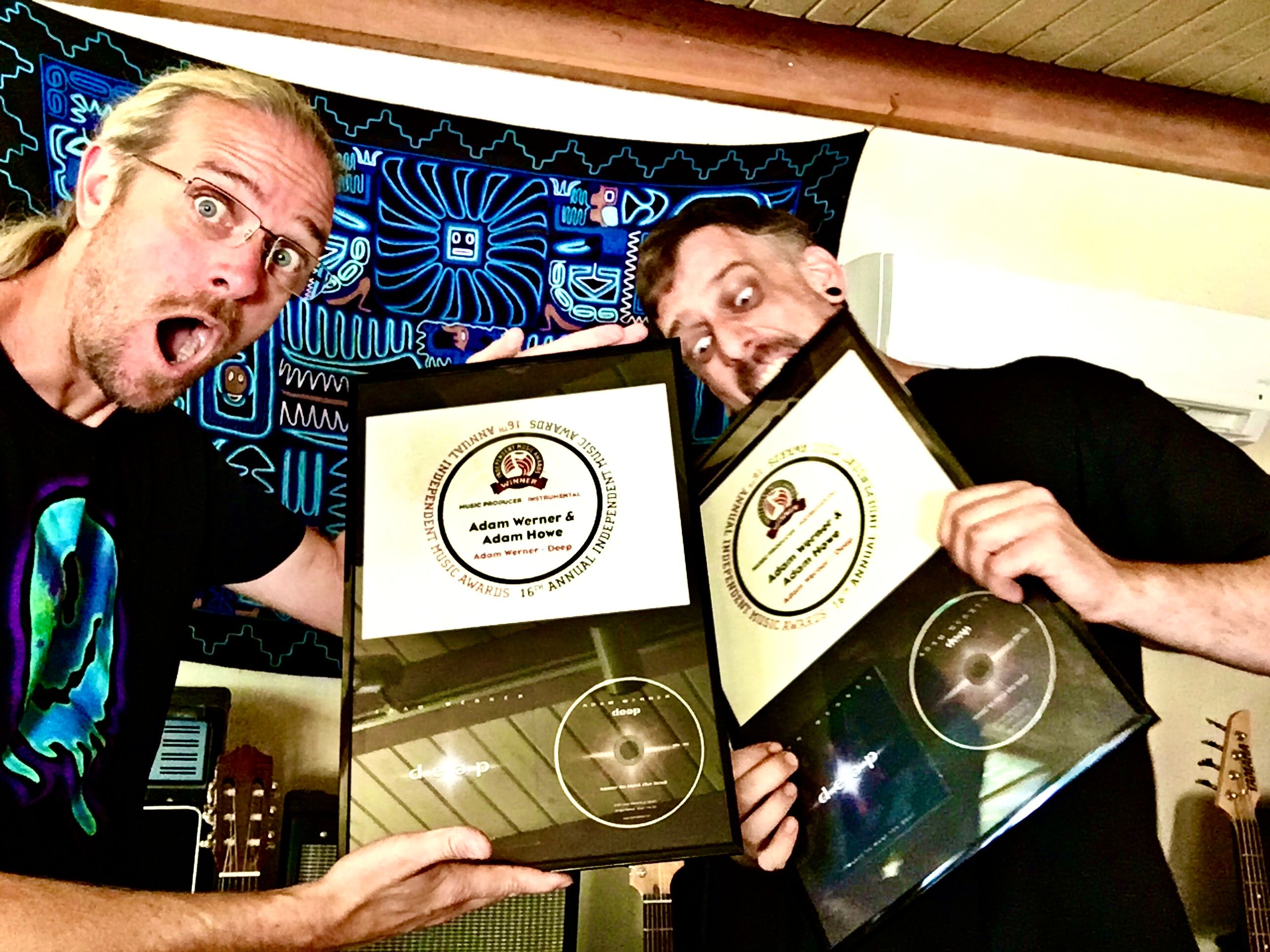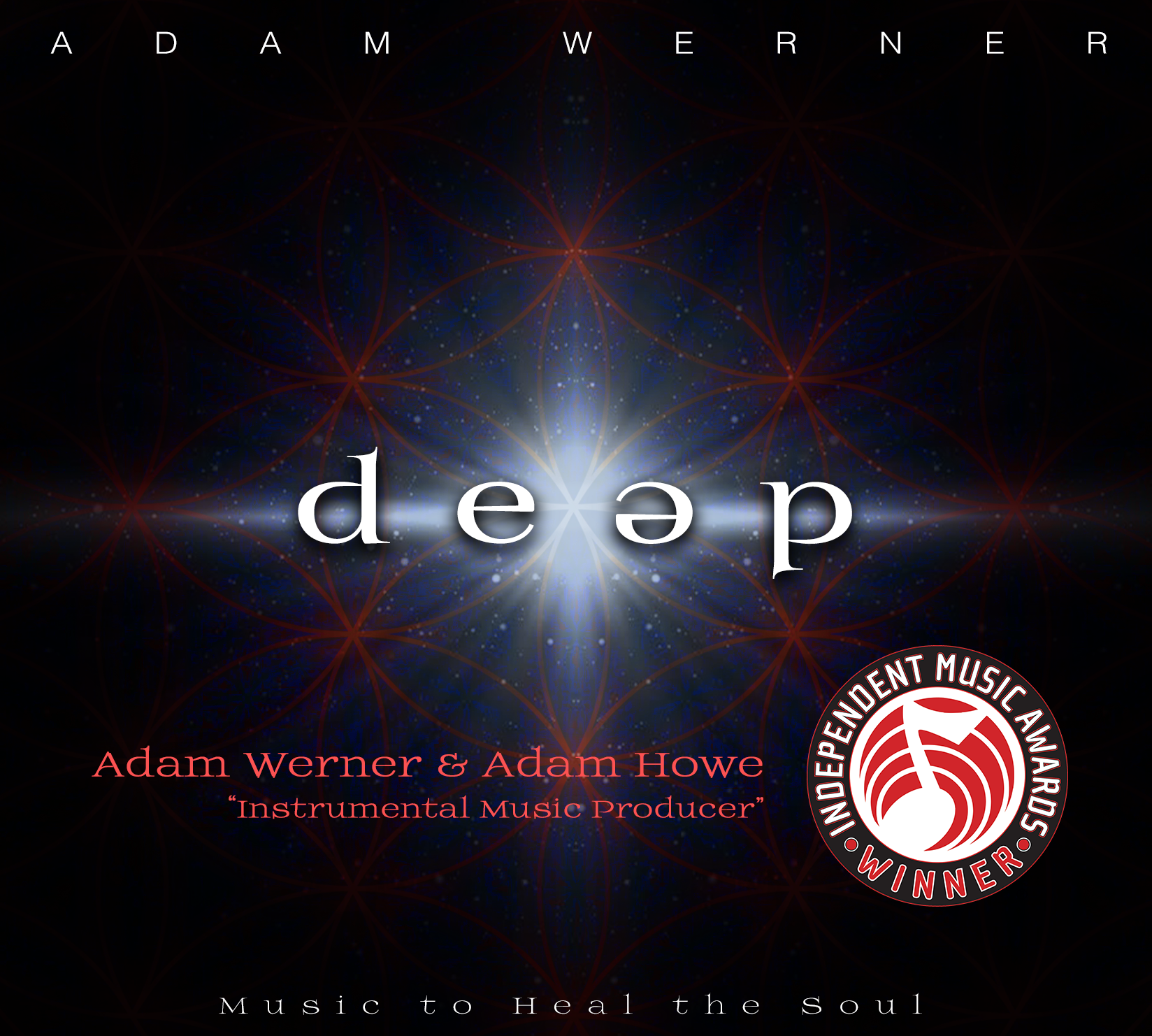 (This album was nominated for 5 awards and the WINNER of the IMA in 2018)
Enjoy the music and consider these thoughts and experiences as you listen. 
Please, take some time to seek out all my musician friends who contributed their talents to this album because they all have some amazing music that they have created that I believe you will enjoy as well!  Chris Yeaton, Adam Howe, Will Ackerman, Alex de Grassi, Michael Manring, Jim "Kimo" West, Ken Verheecke, Kris Tischbein, Kentaro Otsuka, Sydney Easton and so many more! 
Thank You! 
Adam Werner